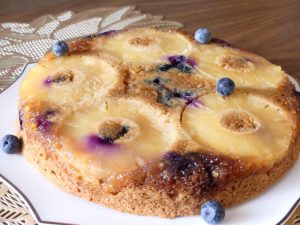 As I'm a big fan of pineapple I didn't resist a long time before to try this recipe. It was one of the first cakes I baked in my tiny kitchen here in US. To make it dairy free, I used margarine and coconut oil (that makes sense because pineapple and coconut match well together….Think about the piña colada if you are not sure).
This cake is soft and not too sweet. If you wanna try but you are not a in a mood to eat pineapple, you can replace fruit by peaches for example.
Ingredients
3 tablespoons of coconut oil
40 g + 110 g of brown sugar
240 g of pineapple (canned, or fresh)
40 g of blueberries
160 g of all-purpose wheat flour
30 g of rolled oats
10 g of baking powder
1 teaspoon of cinnamon
1 egg
100 g of margarine
Directions
Preheat the oven at 180°C/350°F
Warm the coconut oil in the microwave for 15 sec.
Spread the coconut oil at the bottom of the baking pan.
Dust the bottom of the baking pan with 40 g of brown sugar.
Spread the slices of pineapple and the blueberries on the pan.
In a salad bowl, mix the flour, 110 g of brown sugar, the rolled oats, the baking powder, and the cinnamon together.
Add the egg and the melted butter, and mix
Pour the mixture into the baking pan.
Bake for approximately 35-40 min.  Check that the cake is cooked with the point of a knife. Adjust baking time if necessary.
Let the cake cool down for 5 minutes and flip it over onto a plate.
Bon appétit !